Why We, Too, Can Flatten the Pandemic Curve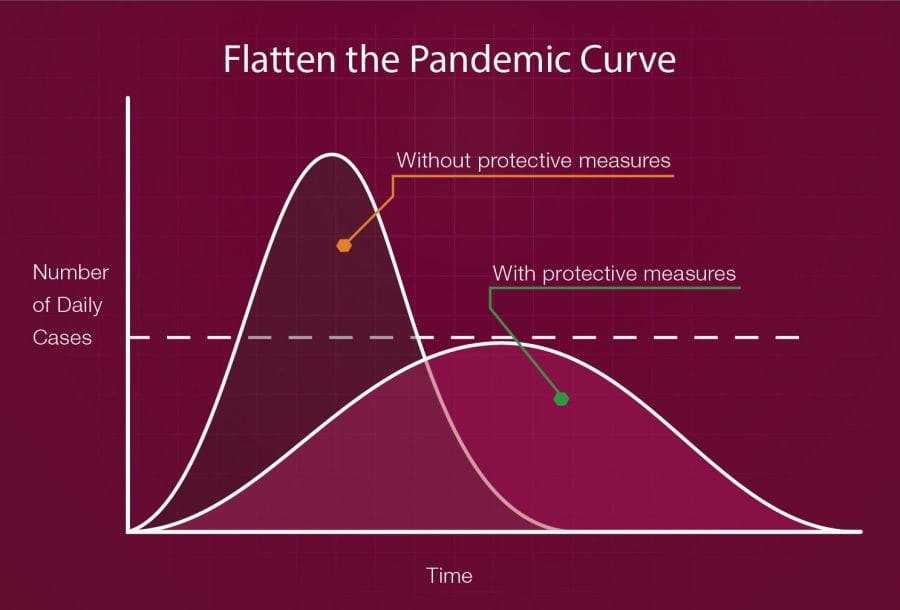 "Flattening the pandemic curve" means buying more time and slowing the transmission down, to reduce the strain on the medical system. Expanding the capacity of a medical system (such as calling on more doctors and nurses to help with providing medical care for coronavirus patients, expanding hospital capacities, creating makeshift medical centres or hospitals, and sourcing more ventilators and medical equipment) can only go so far. The rate at which a population becomes infected makes all the difference in whether there are enough hospital beds, doctors, and resources to treat the sick. The GTA has been experiencing shortages of protective medical gears and equipment such as masks, gloves, and protective gowns – particularly for front-line healthcare workers such as doctors and nurses. This puts both the healthcare workers and the patients at risk. Doing our part to help flatten the curve can assist in alleviating this heavy strain on medical resources.
There are things that we cannot control. When it comes to curbing the spread of COVID-19, however, we all play an important role. Because there is currently no treatment for the novel coronavirus, and testing is limited, the only way to flatten the curve is through the collective action of "social distancing".
The following are positive news examples of how abiding to strict social distancing and self-isolation measures can not only protect the elderly and immunosuppressed from getting infected, but also help flatten the curve of COVID-19 transmission.
High levels of self-quarantine in Codogno, Italy has resulted in significantly fewer infections per day.
Codogno is one of the two coronavirus clusters in Italy. It had 35 new cases per day at the beginning of the outbreak. This number has gone down dramatically after strict self-quarantine measures are put in place.
The fatality rate from COVID-19 in Wuhan, China is now 50% lower than the fatality rate observed at the beginning of the outbreak.
Wuhan was put in complete lockdown with strict self-isolation measures. As a result, the fatality rate has gone down from 3% to 1.5%. Given the number of cases in Wuhan, this reduction makes a big difference. It offers a hopeful guide to the rest of the world with the message: "Social distancing can dramatically reduce the number of deaths from the novel coronavirus".
There has been a dramatic decrease in the number of new cases since self-isolation measures were put in place.
New cases in the Hubei province (where Wuhan is located) have been reporting new cases in only the single digits in the past few weeks, down from several thousand per day in early February. The 1-month period of lockdown and self-isolation can really make a big difference.
A 103-year-old Chinese grandmother has made a full recovery from novel coronavirus.
The oldest COVID-19 patient to recover in China has made full recovery after beating treated for less than a week. This provides hope for the elderly (and those who care for them) across the globe. A flattened pandemic curve helps to ensure that medical resources are available to patients when they need them.
Over 70% of the 80,000 coronavirus patients in China have recovered and been discharged from hospitals.
Reducing the acceleration of new cases means more room in hospitals and more resources can be diverted towards existing patients, allowing them to recover.
The number of recoveries in South Korea is starting to outpace the number of new infections.
Similar to China, South Korea is now reporting more recoveries than new infections. The outbreak in South Korea emerged shortly after China's outbreak in January, and South Korea was one of the Eastern Asian countries that was hardest hit outside of China. The continuing downward trend in the number of new cases provides hope that the pandemic is slowing in Asia.
China has closed its last coronavirus hospital.
All 16 temporary coronavirus hospitals in Wuhan have been closed as new cases have dramatically gone down. Crowds cheered as the final group of 49 patients walked out of the Wuchang temporary hospital in Wuhan. Without enough cases to warrant the continued opening of these temporary hospitals, they have been shut down.
Daily life in China is slowly returning to normal.
With the decrease in new cases identified and increase in the number of people recovering, travel and self-isolation restrictions are slowly being lifted. As of mid-March 2020, parks, sports venues, and tourist attractions have been reopened across the country. Apple and Starbucks have also reopened all stores in China.
China's National Health Commission announced that the COVID-19 outbreak had passed its peak, with figures supporting that claim. This provides proof that if we all do our parts to help flatten the curve and slow down the rate of transmission, life here, too, can return to normal.