Toronto Neighbourhoods with the Best Public School Zones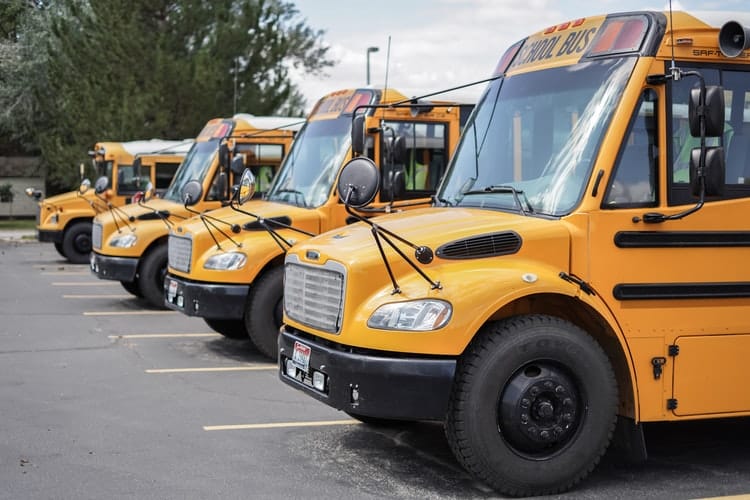 The suburbs aren't the only places with great schools. Toronto is also home to many highly rated and top ranking elementary and secondary schools. The Fraser Institute regularly publishes ratings and report cards of the elementary and secondary schools in Canada. The rating is a score out of 10 (with 10 being the highest), and different pin colours are used to indicate their ratings and locations on the map (e.g. Red = score between 0 – 4, Green = score between 7.6 – 10). In 2019-2020, the best Toronto District School Board (TDSB) public school neighbourhoods in Toronto are as follows:
#1: Bathurst Manor
Avondale Elementary School and Avondale Secondary School call the Bathurst Manor neighbourhood home. Avondale consistently ranks as the highest-rated school (perfect score of 10), based on EQAO (standardized test which measures reading, writing, and math skills) test results. This neighbourhood is also home to TDSB's 3rd highest ranking high school, William Lyon Mackenzie Collegiate Institute.
#2: High Park
High Park is a much sought-after neighbourhood in Toronto, thanks to its proximity to the downtown core, idyllic park that is home to the annual cherry blossom festival (and makes a great urban hiking and running / jogging trail all-year round), and high-quality houses and condominiums (some with views of the park and Lake Ontario). At the intersection of Bloor St. West and Runnymede Road, High Park neighbourhood is mostly residential.
Another selling point of High Park neighbourhood is its schools. Ursula Franklin Academy is the highest-rated secondary school in the Toronto District School Board (TDSB), and fourth overall in Ontario. When it comes to elementary schools, Runnymede Junior and Senior Public School also fares well (ranked 7th overall in the TDSB).
#3: Bayview Village
North York's Bayview Village is home to Hollywood Public School, which is in a three-way tie for 1st place as TDSB's highest-ranking elementary school. It beat out 3,064 other elementary schools in terms of Fraser Institute score. Grade 6 students at Hollywood Public School achieved 100% in reading and high 90% in writing and math (based on a news article by the Toronto Sun). In addition, Bayview Village contains various housing options ranging from detached and semi-detached houses, to bungalows and high-rise condominiums.
#4: Don Valley
Don Valley's Seneca Hill Public School is another TDSB elementary school that has a perfect Fraser Institute score, and is also in a three-way tie for Toronto's best elementary school.
#5: Bloor West
Bloor Collegiate Institute is ranked as the 2nd best secondary school in the TDSB. This school is minutes away from from luxury condos such as Bloor West Lofts and Upside Down Condos.
#6: Rosedale
Given that Rosedale is one of Toronto's wealthiest neighbourhoods, it's no surprise that some of the best schools in the city are located in Rosedale. For example, Rosedale Heights has been called one of the best schools in Canada. Toronto Life gives Rosedale a 98.6% rating for education. Rosedale Heights School of Arts offers specialized education in various art disciplines, including dance, drama, and music. For parents with younger children, Rosedale Junior Public School offers unrivaled education opportunities.
#7: Lawrence Park
Blythwood Junior School and Lawrence Park Collegiate are some of the best elementary and secondary schools in the TDSB. In addition, Lawrence Park garners the image of lush greenery, with its ravine system that makes it ideal for outdoor activities such as urban hiking and biking.
#8: Hillcrest Village
This quiet little neighbourhood of North York  is home to Hillmount Public School and Arbor Glen Public School. Both are top rated. Arbor Glen is unique because it is an open concept school with no walls, is not overcrowded, and there is a higher teacher-to-student ratio. Hands-on learning is heavily promoted in this educational facility.
#9: Leaside
Leaside neighbourhood, which is currently experience in a condo development boom, is located in north Toronto. It is home to the corporate headquarters of some of Canada's biggest companies such as Canadian Tire and RioCan. When you add great schools into the mix, Leaside becomes the perfect place to live, work, and go to school. Northlea Elementary and Middle School offers French Immersion, and North Toronto Collegiate is ranked 6th for secondary schools in the TDSB.
#10: Riverdale
Located just east of the downtown core, Riverdale is famous for its green parks and Victorian-style homes. It is also home to the famous De Grassi Street, lending its name to the popular teenage drama series. Notable schools in the Riverdale neighbourhood include Bennington Heights elementary School and Northern Secondary School – some of the top ranked schools in the district.
If you would like more insight into any of the neighbourhoods listed above, do not hesitate to contact us at AtHouse Real Estate. Our agents would be happy to provide you with more data including average and past home purchase prices, and insights into these neighbourhoods.