Top 5 Reasons to Live in Mississauga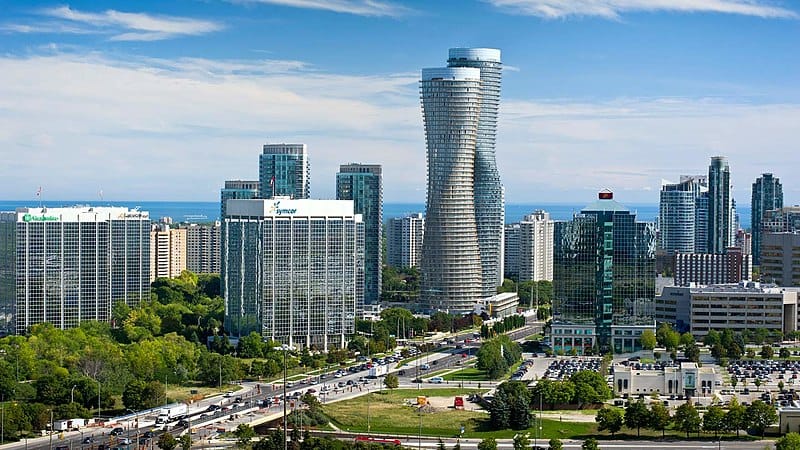 Mississauga almost rivals Toronto when it comes to population size and diversity. Situated on the shores of Lake Ontario in the Regional Municipality of Peel, Mississauga is the sixth most populous municipality in Canada, third most in Ontario, and second most in the Greater Toronto Area (GTA). Here are the top 5 reasons why you should consider calling Mississauga home.
Reason #1: Big City Life with Big City Amenities
Toronto may get all the spotlight and global recognition when it comes to big-city and world-class amenities, but Mississauga should not be overlooked. As Canada's 6th largest city, Mississauga has quality housing options (ranging from detached and semi-detached houses, to townhouses and high-rise condominiums), exceptional city services, extensive telecommunications infrastructure, and all the big city amenities that you can think of. There are plenty of galleries, theatres, art centres, concert halls, museums, restaurants, and large retail shopping centres.
Amidst the high rises and skyscrapers, Mississauga is also home to the beautiful Credit River valley, which provides scenic parklands and clean waters for fishing, hiking, and relaxing in nature. There are also biking trails along the picturesque shores of Lake Ontario, providing ample outdoor leisure opportunities in the summer months.
The City has 11 community centres, arenas, swimming pools, fitness centres, golf courses, tennis courts, baseball diamonds, soccer pitches, and more. Its library system is one of the largest in the country, with 16 branches (some are multi-floor) and well over 300,000 users. Mississauga City Centre, which has over 3.7 million square feet of office space and real estate, provides amenities that include a central library, an art gallery, the Living Arts Centre, YMCA, transit terminal, and Square One shopping centre.
Annual festivals such as Canada Day Celebration, Mississauga Rotary Ribfest, and New Year's Eve Bash are usually held in Celebration Square. Another famous annual event that usually takes place in May, Carassauga, celebrates cultural diversity in Mississauga by showcasing cultural and dance performances, food vendors, and various cultural activities and shows. In 2013, Carassauga was attended by over 300,000 people, making it the second largest cultural festival in Canada.
Health is one of the top priorities for the local government planning. The City of Mississauga holds the 2006 winner title for World Leadership Award, given for its "Healthy City Stewardship Centre" initiative. This initiative implemented improvements in local health and quality of life measures.
When it comes to healthcare, Mississauga residents have quick access to world-class hospitals and health care facilities. Credit Valey Hospital and Trillium Health Centre are the two major hospitals in Mississauga. They provide primary, secondary, and tertiary services to the community.
Reason #2: Safety Record
Research conducted by Safe City Mississauga revealed that Mississauga continues to be one of the safest large cities in Canada. Statistical crime data gathered from Statistics Canada and Peel Regional Police was used to calculate crime rate and Crime Severity Index (CSI). In 2017, the overall crime rate for the Mississauga was 2,670.7 per 100,000 people. This rate was almost half of Canada's national crime rate in 2017, which was 5,334 per 100,000 people. Mississauga's crime rate consistently remains below the crime rates of Canada's largest cities: Toronto, Montreal, Ottawa, Calgary, Edmonton, Winnipeg, and Vancouver.
The Safest City Report 2017 considers Mississauga to be one of the safest cities in Canada for the seventh year in a row. Police protection is provided by the Peel Regional Police, considered to be one of Canada's most progressive police services. There is 1 police officer per 669 residents.
The Mississauga Crime Prevention Association (MCPA), a community drive not-for-profit association, works with residents, business, schools, and the Peel Regional Police to deliver proactive crime prevention programs. The aim is to make Mississauga a crime-free city.
In terms of fire protection, there is 1 firefighter per 1,100 residents. There are 20 fire halls spread out across the City.
Reason #3: Economic Opportunities and Business-Friendly Local Government
Mississauga continues to be one of the most economically successful cities in Canada because of its business-friendly local government and competitive tax and utility rates. Over 60 of the Fortune 500 companies have their global or Canadian head offices in Mississauga. Top industries include pharmaceuticals, banking and finance, aerospace, electronics and computers, transportation parts, and equipment manufacturing and distribution.
Some of the most prominent big companies that have a strong presence in Mississauga are TD Bank, Royal Bank of Canada, Laura Secord, Walmart Canada, Kellogg's Canada, Panasonic Canada, and Hewlett Packard. These companies have their corporate IT development centres or headquarters in the City. Given the proximity to Pearson International Airport, many airlines have regional offices in Mississauga. These include Air Georgian, Jazz (regional airline), and Kam Air. Mississauga is also an aircraft development hub. Aerospace companies such as Magellan Aerospace and Honeywell Aerospace base their operations in Mississauga.
Reason #4: Major Transportation Hub
Pearson International Airport, the largest and busiest airport in Canada, is located within Mississauga. It is the main hub for Air Canada, and a hub for WestJet and cargo airline FedEx Express. It provides airport service to over 75 airlines, connecting the GTA to more than 180 destinations world-wide. The airport also has direct connection to other parts of the GTA, including downtown Toronto, through public transit connections such as UP Express and GO Transit.
Mississauga has access to 3 major railway lines, making inter-city connection easy. Toronto–Sarnia Via Rail trains pass through Mississauga and has a stop at Malton GO station. Other Via Rail services stop in the neighbouring cities of Brampton, Oakville, and Toronto. Another inter-city public transit service is provided by GO Transit. The service runs along the Lakeshore West, Kitchener, and Milton lines, with connection to Toronto's Union Station.
Public transit in the City include the bus service MiWay (formerly called Mississauga Transit), Mississauga Transitway, and Toronto Transit Commission (TTC). MiWay has over 90 bus routes in the City, with connections to GO Transit stations, Brampton Transit, Oakville Transit, and TTC. Mississauga Transitway is a 12-station busway, built parallel to Highway 403.
For car drivers, Mississauga residents enjoy easy access to Highways 401, 403, 407, 427, and QEW.
The City of Mississauga also has an integrated network of cycling routes and pathways. Over 900 km (560 miles) of on and off-road cycling routes are planned to be built over the next 20 years.
Reason #5: World-Class Education
The 2 public school boards that serve Mississauga (Peel Board of Education and Dufferin-Peel Catholic District School Board) provide over 225 schools with approximately 140,000 elementary and secondary school students. Programs offered include French Immersion, English as a Second Language (ESL), co-operative education, technical education programs, and special needs programs.
In addition to public schools, there are also more than 30 private schools for students ranging from pre-school to grade 12. Special programs offered by these private schools include special technical and vocational skills training and religion-focused curriculum.
10 universities and 11 technical colleges are within commuting distance of Mississauga. University of Toronto has a campus in Mississauga. University of Toronto Mississauga (UTM), which was an enrollment of over 13,000 students, has 15 academic departments, 143 programs, and 87 areas of study. These include unique programs such as Masters of Biotechnology and Masters of Management of Innovation.
Another post-secondary institution in Mississauga is the Sheridan College Business education facility, located in downtown. The 150,000 square feet campus is able to accommodate 5,000 students. The school provides business education and programs to accelerate the transition of new Canadians into the workforce.
Looking to see which properties are for sale in Mississauga? Click here to browse our listings.