Top 3 Reasons to Consider Bradford West Gwillimbury for Your Real Estate Purchase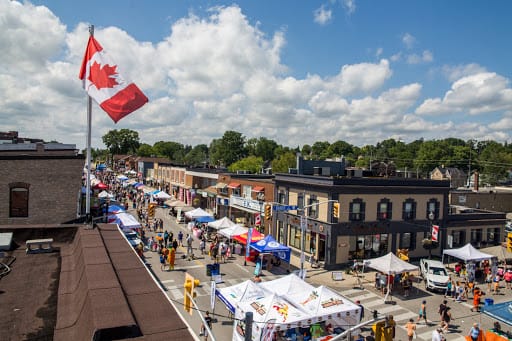 Bradford West Gwillimbury (WG) is a community located north of Newmarket and south of Barrie and Lake Simcoe. Bradford is the primary country urban area of the Town of Bradford West Gwillimbury. It overlooks a farming community, known as The Holland Marsh, located on the Holland River that flows into Lake Simcoe. Surrounded by lush and beautiful farmlands, Bradford WG is home to an agricultural wetland that produces many of Ontario's vegetable crops. Below are the top reasons why you should consider this area for your next real estate purchase.
Reason #1: High Growth
Bradford WG has been growing faster than any of its Simcoe County neighbours, making it a great place to invest in real estate. Home ownership options include rural, suburban, and luxury homes. Property prices continue to grow in value, while remaining competitively priced compared to the GTA. As of April 2020, the average house price for a 3-bedroom detached house is approximately $701,000. It's ranked as the 6th fastest growing community in the GTA, and 5th fastest selling.
Growing faster than any of its Simcoe County neighbours, Bradford WG is a great place to invest in real estate. Offering a mix of rural, suburban and luxury home ownership options, properties in Bradford continue to grow in value while remaining competitively priced compared to the GTA.
Bradford is also known to be one of the top locations to start or grow a company in Southern Ontario.
Reason #2: Great Place to Live and Work
Despite being a country urban area surrounded by farmlands, Bradford WG has plenty of local festivities, recreation facilities, conservation areas, quality schools, a public library, and a historical downtown.
Bradford WG is made up of the following communities:
Holland Marsh (shared with the Township of King)
Town of Bradford and the former Township of West Gwillimbury (before the amalgamation)
Bond Head
Coulson's Hill
Deerhurst
Dunkerron
Green Valley
Newton Robinson
Pinkerton
The Holland River flows through the middle of the southernmost Holland Marsh, and eventually flows out to Lake Simcoe. Geographically, the area is north of the Oak Ridges Moraine. There are plenty of outdoor activities such as hiking and biking available in the area.
Bradford residents enjoy an active healthy lifestyle; the town offers recreation facilities including swimming pools, fitness centres, skating arenas, and gymnasiums. Every August, the town holds CarrotFest, the world's greatest carrot festival located in downtown Bradford. Voted as one of the top events in Ontario, the festival includes a street market with over 300 vendors, live music, pro wrestling, inflatable amusement rides for children, a dog competition, and more.
The farmlands around Bradford WG create ample job opportunities. The town also offers employment opportunities in the government, education, and healthcare fields. Some residents commute to nearby cities for work, including parts of the GTA.
Reason #3: Proximity to the Greater Toronto Area (GTA)
There is easy access from Bradford WG to Highway 400, providing connection to areas throughout the GTA. At the southern border of Bradford WG, the town is served by Highway 400 and Highway 9, as well as a number of Simcoe country roads (4 – Bridge Street, Holland Street East, and Barrie Street; 8 – Canal Road; 27; 41 – Simcoe Road; 88 – Holland Street West).
There is also daily GO Train service, making Bradford WG a prime location to conduct business and commute from. Bradford GO Station is on the Barrie Line. The local transit service, BWG Transit, operates 2 routes around Bradford. They offer a local transit connection to the town's railway station.
Looking to see which properties are for sale in Bradford West Gwillimbury? Click here to browse our listings.