Innisfil's Futuristic Development Plan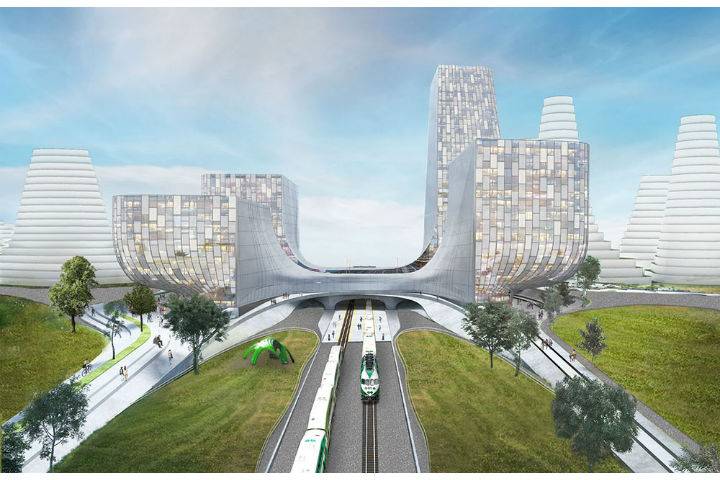 When looking for a new place to buy real estate property in, most people weigh their decisions using factors such as current livability, access to transportation and amenities, proximity to school and work, and current real estate market conditions. While these factors are no doubt important, it is also a good idea to consider the future prospects and conditions of a given location. Some things to consider are: What is the projected growth rate, in terms of population size and job opportunities in that location? What plans does the local government have in mind, for making the city more livable? What initiatives are currently in the works?
Innisfil, a town located on the western shore of Lake Simcoe in Simcoe County, has historically been a rural rea. However, high growth in Barrie and the GTA has spilled over to the rest of Simcoe County, and now Innisfil is experiencing growth seen almost similar to other neighbouring municipalities. Innisfil's location (directly south of Barrie and 80 km north of Toronto) positions it nicely as a residential and economic hub. Furthermore, the local government has some futuristic plans that should make you consider moving to or investing real estate in Innisfil.
What is the Orbit?
The Town of Innisfil's local council has a futuristic development plan concept called the Orbit. It's a community that will combine "small town and rural lifestyles" with the "benefits of urban living". The community would be based on 5 main themes, including wellness, mobility, and smart city principles.
Innisfil Mayor Lynn Dollin told Global News that the vision is to have a GO station at the centre of this community. The Orbit strives for Innisfil to expand while preserving natural and agricultural lands – achieving the best of both rural and urban worlds.
Plan for Mixed-Use Development and Higher Economic Growth
The building of this mixed-use community and infrastructure for new and updated transportation should attract more business and economic opportunities. The prediction is that more companies will want to set up regional headquarters or operations in the area, creating jobs for residents and attracting people to move into Innisfil. Right now, the town is mostly green space made up of agricultural land. Some of the industries that the Orbit plans to attract are retail, technology, and light manufacturing. The main idea is for people to live, work, and play right in the same community.
From the official website of the Orbit: "Living at the Orbit means residents would no longer have to travel to Barrie or Toronto, thanks to a full suite of amenities … With the GO Station at its centre, the Orbit offers numerous transportation options to connect it to Innisfil's surrounding hamlets thanks to pedestrian-first streets, enhanced cycling options, accessibility initiatives, and an Innisfil Transit system that takes advantage of autonomous vehicles and encourages shared trips."
Following the initial opening of this new futuristic community, there will be about 30,000 people living there. In the long term, the community could eventually end up being as high as 150,000 people. The development would be attractive to all kinds of different demographics, including new graduates, young families, and baby boomers.
Vision for Innisfil to Become the Startup Base for Simcoe County and Beyond
The Orbit's hope is to attract startups and entrepreneurs who would be looking for alternatives to crowded cities such as Toronto. By creating an environment that is conducive to living and working in the same neighbourhood, local entrepreneurs and businesses are supported to create more local jobs. The Orbit start-up ecosystem will include co-working spaces, offices, mentorship, networks, access to capital, and more.
Details about the Orbit Implementation
A Toronto-based architecture firm, Partisans, has been selected as the consultant to make the Orbit a reality. The Cortel Group, a property developer based in Vaughan, has partnered with the town on this project. Weekly meetings with stakeholders and other partners, including Metrolinx, have been underway since December 2019.
The GO station at the centre of the community would include a basic station with platforms, a tunnel, and some shelters. The plan is for design to start in 2020, construction to begin in 2021, and finish in 2022. Amenities would include those that are designed for local entrepreneurs, as well as traditional and non-traditional industries, year-round sports and recreational options, and arts and culture spaces.
Visit the Orbit website for more information on Innisfil and the Orbit project.
Knowing that there is a grand-scale futuristic community development being built in Innisfil, it is expected that real estate prices will increase in the coming years. Why not browse our current listings to see which properties are currently for sale in Innisfil? Get a head start and contact us if you have any questions or to book a showing.